Anderson blogged once again today, telling us what they're working on for tonight and a few witty comments to bring a smile to our face.
"By the way, we noticed last night's White House dinner in honor of Queen Elizabeth II featured this dish on the menu: Arugula, Savannah Mustard and Mint Romaine with Champagne Dressing and Trio of Farmhouse Cheeses. I don't know about you, but in New York, we call that "salad."
So true,Anderson.
http://www.cnn.com/CNN/Programs/anderson.cooper.360/blog/

Tuesday's show
Should a candidate's stance on evolution matter? Three GOP presidential hopefuls expressed their disbelief in evolution during last week's debate. Where do you stand? Tune in tonight at 10 p.m. ET.

In addition, Anderson will be reprising his report on Teri Horton and her $5 purchase of a Jackson Pollack painting that's allegedly worth $50 million.

To my delight, Richard Quest will also be part of tonight's program. I read various comments on the blog saying he should be a regular contributor on AC 360; I wholeheartedly agree. He is an interesting and entertaining character and always has a wealth of interesting tidbits to share with us. I especially like his quiz last night on etiquette with the Queen. Maybe it's my interest in all things royal but I am always interested in what he has to say. Next to Anderson I like him best; maybe it's the English accent?

Now, this week the screen caps will be a little late as my capper is off for a few nights. So the caps will be from Friday night's 360 and the Larry King: 50 years of Pop Culture special. I really enjoyed the Larry King anniversary special, I must've watched it at least four times by now, if not more. From Anderson's capable narration and interviewing Larry to the walk down memory lane, every minute was compelling and at times very emotional. It must have been a great thrill to sit there and listen to Larry talk about all the people he has interviewed and all the events he has had a front row seat to. I wouldn' be surprised if they had tons of footage that was never aired. Maybe they should put it on DVD.

Speaking of videos, allow me a moment to rant. I was terribly disapponted to hear that Anderson's paperback "Dispatches from the Edge" paperback and DVD is only available at Hudson Booksellers. Peronally, I never heard of Hudsons, but after some investigating I found they are only located in airports. That's not fair to overlook all those Anderfans that don't have access to large airports with shops and bookstores. I thought I was the first to suggest Anderson's Reporter's Notebooks being put on DVD, and now that the DVD is made, I can't get it. *sad smiley*

Okay, now on to happier things. Take a look!

Screen caps courtesy of Sahira, merci beaucoup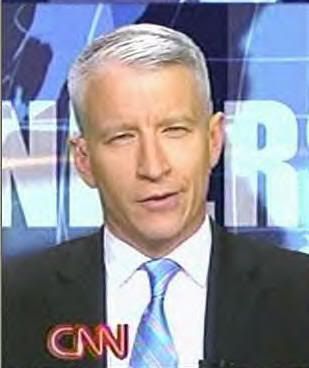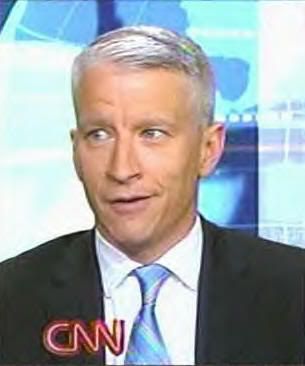 Don't forget to vote for the Picture of the Month for April! Scroll down to the poll.