Well my Spurs didn't let me down last night! They started their season with a 97-91 win on the road over the Mavs!! After trailing most of the game, they took the lead early in the fourth quarter and outscored the Mavs 25-16 in the stretch to secure the win!

Some nice stats to look at:

Bruce Bowen drained a tough 3-pointer. Despite his ankle sprain, Tony Parker scored 19 points, and Ginobili added 16 more! Newbie Francisco Elson added 10 points, 6 rebounds and a couple of block shots coming off the bench! Looks like we found a GREAT center!!


Although last season came to an early finish, Ginobili has the right mindset for this season.
"We all believe we had a great opportunity last year," Manu Ginobili said. "But it's gone. We can't do anything about it. We just have to try to forget and learn from our mistakes.

"Probably the only thing that's going to make us fo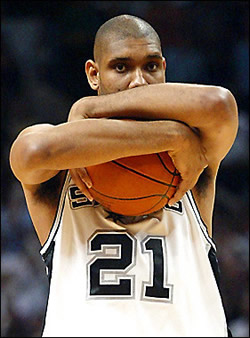 rget is to have a great season."

I believe Tim Duncan summed it up the best when he said:
"It's one win," Duncan said, "but it's a great start to the season."

Many of you have heard me say time and time again how I have no respect for the Mavs anymore. In the past I always rooted for a Texas team, but last season that changed. Many people don't see my point, but here is a good example. First game of the season and we already have a flagrant foul.


Bruce Bowen is known for his defense, that is his role: to harrass whoever he is guarding and make the shots he needs to make! During the game he was guarding Josh Howard. Early in the 2nd quarter Howard shoved Bowen to the ground. Why? I remember watching the interview he gave and he gave some excuse as to how he had to protect himself. First of all basketball isn't a nice sport, but if you can't control your temper when your getting owned by a defender you shouldn't be there. BUT THAT IS JUST MY HUMBLE OPINION!

Here is Bowen's take on the matter:
"I know I made a cut and he fell," Bowen said. "As I'm trying to step over him, he's grabbing me. Look at the film.

"I'm sick of all the stuff that takes place with me and Dallas. It always looks like it's something. And who gets the great label for that? Me."

And to be fair this is Howard's take on the issue as well:
"A situation happened where I got to protect myself,'' Howard said (That is all I could find)